KUNG FU KIDS!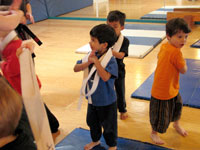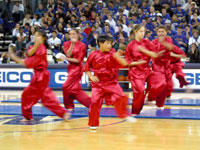 Children's classes focus on the study of Kung Fu, while also integrating elements of gymnastics, to develop self-confidence, self esteem, and self-defense skills in a safe, supportive and fun environment. The Kung Fu Kids program uses the art of Kung Fu as a vehicle for teaching concepts including respect for one's self and others, diligence, complete effort, leadership, and peace-keeping skills.
Sifu Melinda Johnson, Head Instructor of Kung Fu Kids and Seattle Kajukenbo, holds the rank of fifth degree black belt in Kung Fu and Aikido, and has more than twenty years experience teaching martial arts and gymnastics to children.
Please see the schedule page for class times.
Cost:$100/month or $250 for 3 months. Annual membership fee of $25. Scholarships available.
Kung Fu Kids Demonstration Team
Kung Fu Kids has a Demo Team that performs at many community and cultural events and private and public school assemblies throughout the Seattle area. Directed by Sifu Melinda Johnson, the kids on the Demo Team choreograph most of their own material. The performances are exciting, dramatic, and fun, with pieces that incorporate traditional Chinese Kung Fu forms, empty handed fighting sets and weapons work, all done to music, drumming, and often with a touch of hip-hop music and movement as well as tumbling and gymnastics.
The kids convey a message of peace and non-violence, and demonstrate the strength, focus, and fun that the art has instilled in them.
Please send us mail if you are interested in having the Kung Fu Kids Demo Team perform at your event.