Sifu Melinda Johnson, head instructor
Melinda Johnson holds the rank of 6th degree black belt in Kajukenbo and 1st degree black belt in Aikido. She is the head instructor of Seattle Kajukenbo and Kung Fu Kids and has more than 25 years experience teaching martial arts and gymnastics to children and adults.
In 1985, Sifu Johnson began studying the eclectic art of Kajukenbo under Sifu Anne Moon. She soon began training under Professor Barbara Bones who awarded Sifu Johnson her 1st degree black belt in Kajukenbo Kung Fu in 1993. In 2002, she was promoted to 4th degree black belt; in October 2006, she was awarded the rank of 5th degree black belt, Chief Instructor; and in 2014 she was promoted to 6th degree black belt by Professor Barbara Bones.
Sifu Johnson began her martial arts career in 1977 in the University of California, Santa Cruz Aikido Club. She trained for six months in Shingu, Japan, under 10th degree black belt Higitsuchi Sensei, returning to the United States in 1978 and relocating to Seattle in order to train further with Mary Heiny Sensei. She received her 1st degree black belt in Aikido in 1992 from Kimberly Richardson Sensei.
Sifu Johnson opened Seattle Kajukenbo and Kung Fu Kids in December of 1996. The school was able to purchase and renovate an old warehouse facility in Seattle's Central District where it currently operates.
Creativity with a strong foundation is the cornerstone philosophy of Kajukenbo. To that end, Sifu Johnson teaches a wide variety of classes including weapons, forms, and sparring each week. She cultivates a non-competitive, challenging, and invigorating environment where physical power is balanced with technical skill, self-control, and a thorough understanding of traditional martial arts philosophy grounded in respect and compassion.
Sifu Johnson continues her own training with her instructor Professor Barbara Bones, studying Kung Fu, Tai Chi, and Arnis.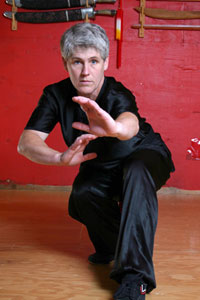 Graham Threlkeld-Guy, 2nd Degree Kajukenbo Black Belt
Graham received his first degree black belt in 2008 from Sifu Melinda Johnson.